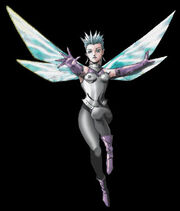 "The leader of a swarm of pixies. Any pixie in a leadership role, or with remarkable power, is called by this name."
—Compendium Info
High Pixie (ハイピクシー, haipikushii) is a Level 22 Persona of the Priestess Arcana.
It can be obtained from Shuffle Time at Marukyu Striptease.
High Pixie inherits "Electricity" skills from other Personas in Fusion.
| Strength | Magic | Endurance | Agility | Luck |
| --- | --- | --- | --- | --- |
| 10 | 21 | 10 | 19 | 13 |
Elemental
Edit
| Element | Phys | Agi | Bufu | Zio | Garu | Hama | Mudo |
| --- | --- | --- | --- | --- | --- | --- | --- |
| Affinity | - | - | Weak | Block | - | - | - |
| Effectiveness (%) | 100 | 100 | 125 | - | 100 | 50 | 50 |